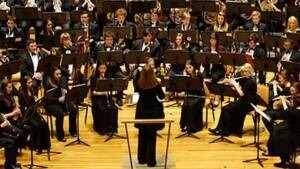 The students prepare all year for their band concerts. We′re here to ensure a positive experience while producing the best possible performance.
Band students will present at least two evening music programs each year, as well as an in-school assembly program, whenever possible. When ready, students may be selected for our Award winning Honor Band to play in such venues as Washington DC, NYC, Hershey Park, Dorney Park and Disney World.
---
Honor Band Concerts


Our Award-Winning Honor Band has received 27 Superior Ratings at Music Festivals and performed music programs at Hershey, Dorney, 6 Flags, NYC, Washington DC, Bush Gardens, and Williamsburg Va.

Since 1979 we have helped thousands of students begin and continue on their musical journey. Fundamental Music Instruction began as Future Musicians and has been teaching instrumental music lessons in a great many private and public schools.  When you begin researching "Music Lessons Near Me" we know what you are looking for is the best music teachers and the most convenient schedule at the most affordable cost.
A Class for Everyone
All of our music teachers have a degree in music and music education. Many have advanced degrees and a few have doctoral degrees. Our music classes can be scheduled at one of our select school programs, during the school day and in many cases, after school. We are excited to offer classes online as well making scheduling even easier. Now we offer classes at select schools and online! At FMI we understand the pressures on everyone's schedule. So many things pull at our time that making a commitment to a set schedule can often become difficult. Private lessons online are flexible and are available 6 days per week.
Fundamental Music meets or exceeds the 3 requirements most people look for when researching the best music class: 
Great teachers, Flexible scheduling, and affordable cost.
We are happy to design a program for you, your children, and your school